You were expecting to see more photos & write ups, right?  Well, there will be more. . that's for sure. . but, why not make YOURS the next one here?  Yup.  Why not!?  All we need is a photo of you back then & one of you now. . your pick!  Send it to:

. .along with a short write up like the ones you've seen in the last page. . &, BINGO!!  You're on the UnOfficial 81st "Then and Now" page. . on the worldwide web of all places!!

Hey, it couldn't be any easier. . where's your sense of adventure anyway (smile)?  Let your old buds see how you look like today. . get a chance to write something neat about yourself.






Hi, my name is Chuck Mumpower & I'm from Bristol. VA.  I was at Bentwaters from 06/1985 to 06/1987.  I lived on base & my first roommate was Shelton Holley in the old barracks. When we moved across the road I lived with Dave Thabet and then Alvin King.  I had some great & bad times at Bentwaters but I'll always treasure the memories of all the guys & gals I worked with. We had some great parties & plenty of fun hanging out.  After Bentwaters I was at Altus AFB, OK.  I left Altus & the Air Force in April 1988.

I then started my career with the Virginia State Police making it to the rank of Sergeant.  I was injured in a car crash in 2005 and had to retire due to my injuries.  I have two boys ages 20 and 15.  I spend alot of my time with my youngest son and his sporting events.  My favorite hobby is camping and hanging out with my family and friends and 3 dogs.  I currently reside in Virginia and plan to stay here.  I would love to here from some of my old friends that I haven't spoke to since I left England, so drop me an email.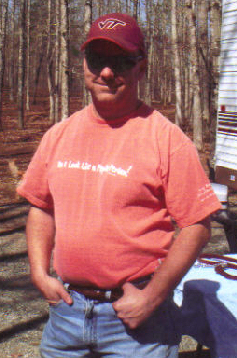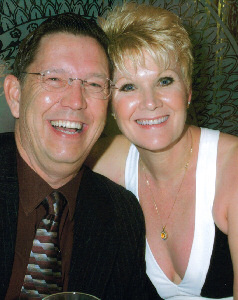 Hello this is Linda Barr, most individuals would remember me as Linda Kerr who married Capt Raymond "Dale" Kerr, D Flt Shift Commander.  I started (1977-1979) in the SP Training Section, but moved to Pass and ID.  I have many memories of Bentwaters, but the one that clearly stands out is..On our wedding night Dale had to meet Major "Wild Bill" Doran at the Constables' station to "bailout" most of D Flight.  They had been arrested for a major drug deal.

We left Bentwaters in 1979 and I followed Dale's military career around the world for over 20 years.  I left active duty while at Bentwaters and started working for the Office of Special Investigations (OSI) as a civilian which lasted for over 20 years. 

Dale and I divorced many years back and I've since remarried another Security Police Officer (retired) in 2006.  I now work for a major casino (Caesars Palace).  I have two grown children:  Raymond who is a Capt in the AF/Engineer and Crystal who is a Realtor.  Of a special note my son redesigned the gates for the Security Police while at Nellis.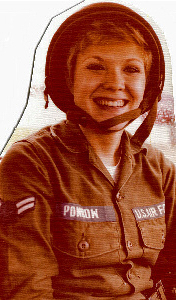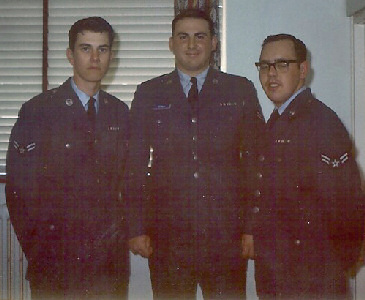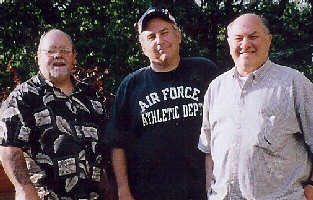 1967 pic to the left: Ron Jeglinski - left, Pete Reimer - center, Phil Jacques - right. 2008 pic above: Phil Jacques - left, Pete Reimer - center, Ron Jeglinski - right. Now that Phil "Bloke" Jacques & Ron "Ski" Jeglinski are retired, they've taken the task to find all

the guys from C Flt, 1966-67-68 when we were together. They've found 5 or 6 &  that's when they learned that John Stoler had passed away. Bloke & Ski showed up on my doorstep on Memorial Day & said "found ya".. all these years and crazy as ever.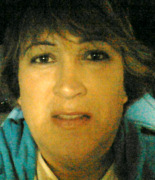 Hi fellow BW/WB veterans! My name is Xavier Lomeli. I was at BW from Feb 79 to Feb 81 & worked mostly B Flight. I departed BW for Plattsburgh AFB & in Sep 82 onto Glendale, CA where I finished my AF career at Edwards AFB as a LE SSgt.

I began training in Sacramento, CA as a CHP cadet in Oct 84, and worked as a CA Highway Patrol officer #11440 stationed at Newhall CA. Resigned Sep 85 having lost interest after I lost my dad suddenly. I then worked in the security industry in management and returned to LE as a LA County Police Officer in 1993. Assigned to LA County General Hospital in East LA,

I married a nurse and mutually decided to resign to be a full time parent in May 1996. I stayed home for 10 years. My daughter, who is a GAIT student benefited tremendously.

I returned to voluntary servitude in Mar 06 and currently work at HPMC in Hollywood CA. as a safety/security officer pending possible return to L.E. as as a female officer.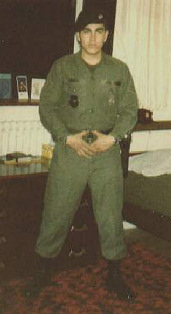 I'm Kevin Conde.  I was at Bentwaters from June 1978 until June 1981.  Worked "B" Flight LE, Training and QC.  Was married to Chris at the time and still am.  I retired as a SMSgt in 1993 and Chris as an SMSgt in 1995.  Earned a BS and MS in Computer Information Systems.  Eventually went back to law enforcement and worked as a detective for Marysville California, and on a high tech crime task force.  Retired due to on the job injuries in 2013, but still work two days a week.  We live in Yuba City CA,
[email protected]
  Chris retired from teaching at the same time, but also still works two days a week teaching opportunity school.
Left picture is me in QA, and right is my official PD photo.