Hi.  This is Mike Christian.  I arrived at Bentwaters on September 28, 1978, and worked D Flight under flight chiefs Rodriguez, Gulyas, Keeney and Ball.  "Old Man" Bill White was my reporting official.  I was on the Phantoms football team playing positions of quarterback, receiver, kicker and punter.  I departed Bentwaters on December 6, 1980.

I've been working as an Energy Technician for Wheelabrator, Inc. outside of my hometown of Clearwater, Florida since 1982.  I spend a lot of my free time working on my golf game.

My stay at Bentwaters was an experience of a lifetime and I'll never forget all of the friends I made over there.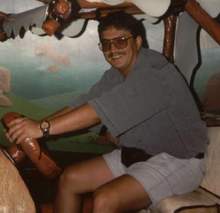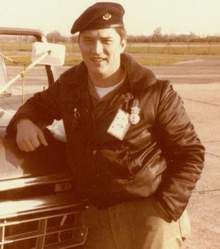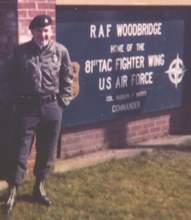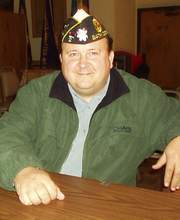 I'm Terry Stanberry. I was at Bentwaters from Apr 77 to May 79. 1st, at RAF Woodbridge & then moved off base to Saxmundham, and later to Ipswich.

After 15 yrs of active duty (Bentwaters, F.E. Warren AFB, Aviano AB, Grand Forks AFB, Murted AFD & Buckley AFB, CO), I took an early retirement & moved back home to Asheville, North Carolina. I've since worked mostly hi-tech jobs, been laid off twice, and now work as a Juvenile Justice Officer for the State of North Carolina.

The photo on the right was me at an American Legion meeting in June, 2002 as I stepped down as 24th District Commander. I've recently made contact with my daughter (Sacha) in Ipswich, England, and I am a Grandfather.  I also have a daughter (Amanda) that is still living at Aviano AB, in Italy.  I reflect upon my tour at Bentwaters & still miss a good pint of Strongbow now and then.

Hi.  This is Clarence Washington.  I was stationed at RAF Bentwaters and worked on D Flight from February 1980 to February 1982.     

I left the Air Force in 1987 and returned to my hometown of Mobile, AL.  I have been employed by Alabama Power Co. for 15 years as a Security Officer.

I've been married for 20 years and have 5 daughters and 1 son. My hobbies include reading, running, collecting/making Jazz CDs.

The time I spent at Bentwaters was unforgettable.  The people I met are a part of me and helped me to become the person that I am today and I thank GOD for those special two years.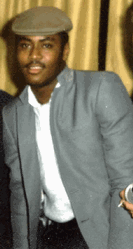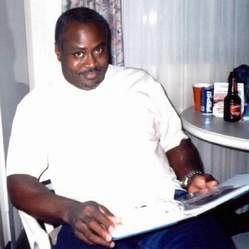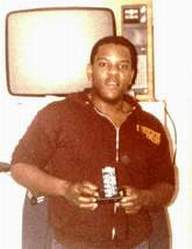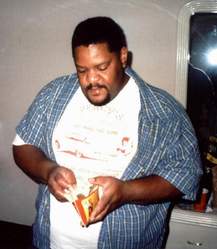 This is Dock Rhodes.  I was stationed at RAF Bentwaters from July 1979 to July 1981.  I worked the entire time on D Flight under the supervision of flight chiefs MSgt Whitehead and TSgt Mulinex.  After leaving England, I was stationed at Keesler AFB, MS and Nellis AFB, NV.  I left the Air Force in 1984 and returned to my hometown of Morton, MS working for Hughes Aircraft and Clorox.

I've been married for seventeen years to my childhood sweetheart, Stephanie and have two daughters, Amy and Ashley.

Like many, I didn't want to go to Bentwaters but I'm glad I went. I'll never forget all of the good times and the friends I made.  

Hello, I'm Joe Hoffer ("Joey"). 

Some time ago I left Pittsburgh, Pa to begin my military career.  Eventually I arrived at a destination called RAF Bentwaters.  Little did I know what a profound effect the 81st would have on me.   From walking the line, to being the entry controller to the weapons area.  I was in the VA alert area at the time of the six-day war.   My military time allowed me the opportunity to receive an education using the GI bill where I'm part of the computer industry now.  I migrated around a bit and now reside in the Detroit, Michigan area. 

The memories of B/W have been with me ever since I left.  To this day I contact another former member of the 81st and we laugh, talk and create a few more memories of life.  I've often wondered about the base but with the two sites to view it provides me the opportunity to return home.   Any former 81st member can drop in and chat with me anytime, as we are all family.  Ta mates!!!