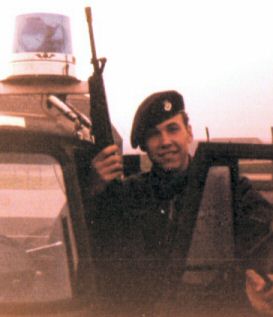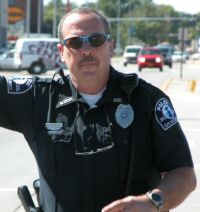 Hi I'm Mike Eggen. I was at Bentwaters from 07/1975 to 06/1977. I was on B Flight with Holmquist as my Flight Sgt. The THEN pic is me at 21. I worked with Brent Fewox, Keith Sautter, Kenny Reeves, Will Morgan, etc. It was an interesting time of my life. I am from Kearney, NE where I grew up. The NOW pic shows me as a cop in Kearney in the summer of 2004. I've been an officer with Kearney Police since 1980. When I left Bentwaters I returned to Kearney & worked different jobs incl glazier and carpenter. These jobs gave me the training to be able to do my hobbies of stain glass windows and woodworking. I then finally decided to become an officer. I have been married since 1985 and don't have any kids just dogs.

Hello 81st SPS!

The name's Don Hammond, but you probably know me by my moniker – "Drac". I hail from Newark, N.J. & I arrived at Cripple Creek in Feb '78 & remained on "D" flight my 2 yrs under Flt Chiefs MSgts Gulyas (the Rock) & Rodriguez. From BW, I was stationed at Grand Forks, N.D. I cross trained into Imagery Analysis & stayed in that field til I retired in '98. I had great assign-ments at SAC HQ, Omaha, NE (7 yrs), the 24th Intel Sqdrn in Panama & finally the Space War-fare Cntr in Colorado Springs.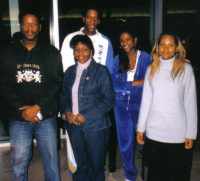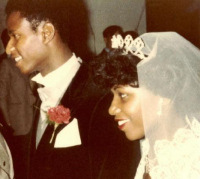 I now work for the Natnl Geospatial-Intel Agency & stationed back in England at RAF Molesworth. I've been married to the former Valerie Salmon since '79. We were married in London & many folks from flight like Tim Egercic blessed us with their attendance. We have 3 children – Liara, Andre and Anisa. Liara will be graduating from university this year and Andre in 2006.

Those 2 yrs were some of the best in my life. Who would have thought that having a 10-52 break at 2 in the morning eating cold eggs or running with an M-60 machine gun at breakneck speed could build lifelong friendships and everlasting memories?  Hopefully I'll get a chance to see some of you at one of the reunions. Peace. 10-6.

Hi fellow 81st SPSers! I arrived at RAF Bentwaters in 1986 and was at Bentwater's for less than a month before being transferred to RAF Woodbridge. I remember being posted overnite at the East Gate where the famous UFO sighting took place and always wondered if there would be a return visit. I remember buying Captain Carter's purple ford cortina for $500.00 and driving it onto base and having my fellow airmen salute me for about two weeks before they caught on.

I also did a pretty good impersonation of Colonel Townes and performed it at our squadron Christmas party with him there. The only person I have contact now since those days is Michael Short who now lives in St. Louis. I am now a Radio Disc Jockey at 93.7 K-Country in Ocala/Gainesville. You can here me from 10am to 3pm Monday through Friday on the World Wide Web at www.937kcountry.com. The photo on the right is me with my two boys Nicholas and Noah. I also have two daughters. Lyndsy and Crystal.  Lewis Stokes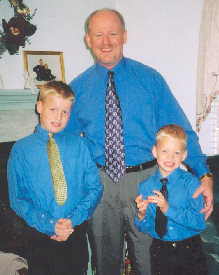 Fellow RAF Bentwaters SP's.. My name is David Paine & I was in C-Flt Security from Nov 79 to Nov 81. After Bentwaters I was at Plattsburgh AFB, NY. I left Plattsburgh in June 83 & spent a couple yrs in the reserves at Westover Air Base, MA. After leaving USAF, I became a police officer in Mass, got married & have two teenaged boys. I currently live in Mass between Boston & Providence. In the "Then" photo I'm wearing a purple satin Beatles 1965 American Tour jacket! In the "Now" photo I'm holding my Fender Stratocaster. I cherish this instrument because it was a gift from my Bentwaters roommate and best friend Chris Armold, C-Flight LE. After 25 years we still stay in touch & have seen each other several times over the years. He's doing great & living in Ohio. Well, I just wanted to join the ranks of the "Then and Now" crew & say thanks to all the great friends who made those two years a lot of fun!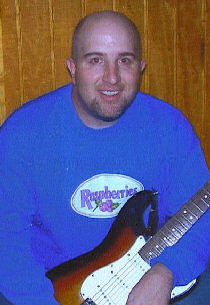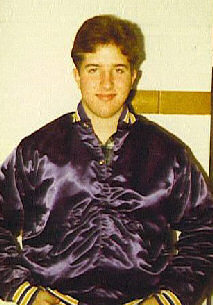 Hi - I'm Dave Morris. Woodbridge was a blast. A pretty tight crew over there & it was fun to share a slice of life with them. Loved the UK trips & taking the Felixstowe ferry to Antwerp, Paris & Amsterdam. In a 20 day trip, I flew over to one of the detachments in a C-130 or 141 using a disassembled helicopter as a foot rest & went to Ramstein MAC  terminal & got on a list for the next few flts. Could've wound up anywhere. Wound up in Greece, for a few days anyway.

Life post AF has been good. School on the GI bill. Married in 95. Work as a computer programmer. Wound up a bit geeky & trace that to my SP days. We've got 5 cats & a couple of boxers. Live in Philly burbs but just contracted to buy a real cool house across the Delaware in Jersey that'll keep us busy fixing, painting, & gardening.